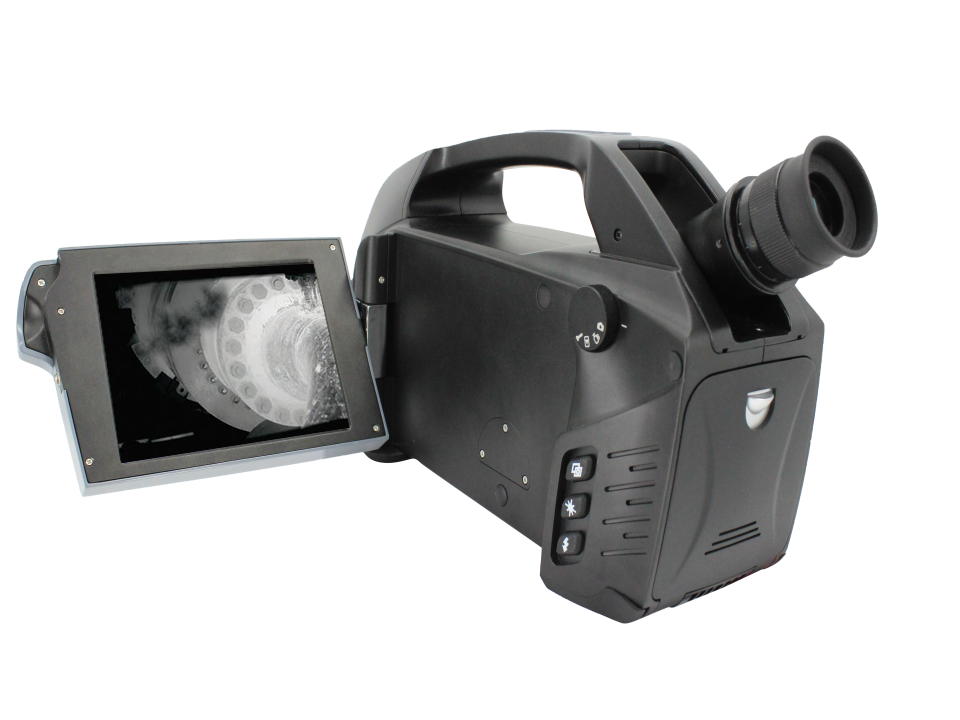 Infrared Camera for SF6 Gas Leakage Detection
Model: SV-HS6D
The TherCam SV-HS6D Infrared Camera for SF6 Gas Leakage Detection is essential for optical gas imaging. The SV-HS6D gas leak detection camera visualizes sulfur hexafluoride (SF6) and other gas emissions. With its ergonomic and portable design, it's also perfect for detecting leaks in hard to examine areas.
Keep productivity high and operations running smoothly while pinpointing where your SF6 leak is coming from without shutting down equipment!
Efficient and Precise
A Quantum well-infrared detector, with a center wavelength of 10.55um, perfectly matches the absorption peak of SF6 gas, making it easy to observe the tiny leakage of SF6 gas.
Gas Visualization
Visualize invisible toxic gases, quickly identify and locate the source of VOCs leakage.

Long-Distance Screening
Non-contact, long-distance rapid scanning of large areas to meet the detection of dangerous places to ensure the safety of inspection personnel.

Temperature and Leak Detection Two-in-One
Combined with clear infrared images, it can visually check gas leaks while realizing precise temperature detection.

Smart and Portable
Small size, easy to carry, sturdy and durable, and ergonomic design; multiple shortcut buttons are designed to facilitate quick operation by operators.
| | |
| --- | --- |
| Detector Type | Focal plane array cooled QWIP |
| Detector Resolution | 640 × 480 |
| Spectral Range | 9.1~11μm,CWL 10.55μm |
| Detector Pitch | 15μm |
| Lens | 35mm |
| IFOV | 0.43mrad |
| FOV | 15.7° × 12.6° |
| NETD | < 15mK(@25°C,F#=1.0) |
| Focus | Manual |
| Image Frequency | 50HZ |
| | |
| --- | --- |
| Resolution | 5 Mega Pixle,CMOS |
| Focus | Automatic Focus |
| Fill-in light | High power double fill light lamp |
| Laser Lamp | Level two,1mW/635nm RED |
| | |
| --- | --- |
| Display Screen | 5.7" LCD Highlight Display Screen |
| Power Detection | Real-time battery power display, low battery prompt alarm |
| OSD | Date/Time, Language, Temperature unit |
| View Finder | 0.44" Color,Resolution 640*480 |
| Power Detection | Real-time battery power display, low battery prompt alarm |
| Color Palettes | White-hot, black hot, iron red, etc |
| Image Enhancement | Digital image enhancement, Noise reduction filter |
| Image Zoom | X1/X2/X4 |
| Image Adjustment | Automatic/manual image contrast and brightness adjustment |
Temperature measurement performance
| | |
| --- | --- |
| Accuracy | ±2℃ or ±2% of the reading |
| Range | -20°C~350°C |
| Emissivity Correction | 0.01-1 can be set |
| High-temperature alarm | High-temperature abnormal alarm |
| Temperature measurement model | Point, line, and frame temperature measurement, 10 temperature measurement points, five regions, and lines at the same time. Isothermal analysis, temperature difference measurement |
| Background Temperature Correction | Yes |
| Transmittance Correction | Target distance, temperature, and humidity can be set |
Connections & Communications
| | |
| --- | --- |
| Data | USB 2.0 |
| Storage | MMC Memory Card (32GB MAX) |
| Video Output | HDMI |
| GPS | Yes |
| | |
| --- | --- |
| Encapsulation | IP54 |
| Operating Temperature | -20°C~+40°C |
| Operating Humidity | 0-95% |
| Storage Temperature | -40°C~80°C |
| | |
| --- | --- |
| Power Supply | DC212V/3A |
| Charge Mode | Charger or DC charge |
| Battery Type | 44Wh SONY Li-ion battery |
| Battery life | >2h at 25°C ambient temperature and typical use |
| | |
| --- | --- |
| Power Consumption | 3.6W |
| Size (L x W x H) | 345×195×190 mm |
| Weight | ≤3Kg(incl battery) |