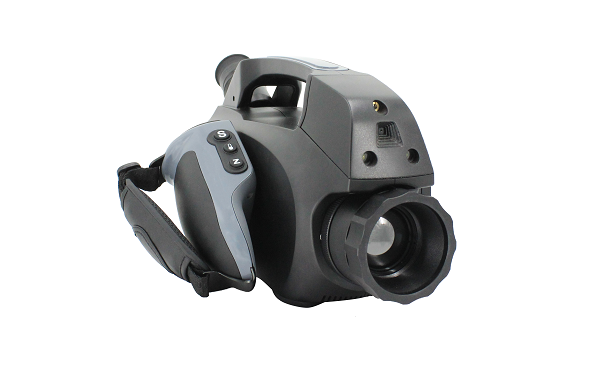 Infrared Camera for Alkanes Detection
Model: SV-HC3D
TherCam's SV-HC3D Infrared Camera is essential for alkane detection (methane, ethane, propane, etc.) in the national gas production process. With this infrared camera, inspectors can check thousands of components and find gas leaks in real-time. The SV-HC3D is lightweight, ergonomic, rugged.
High sensitivity, easy to detect trace leaks
Cooled detector with high sensitivity; it can measure the temperature up to 350℃, and accuracy is ±2℃ or ±2% of reading. The user can observe the temperature data and the tiny leakage of VOC gas with naked eyes.
High-resolution infrared thermal image
Image processing technologies, such as super-resolution technology and image detail enhancement technology, can significantly enhance the details of target objects in complex scenes and output unparalleled high-quality clear thermal images.
Advanced configuration, exquisite appearance design
5.7-inch high-brightness LCD screen, clearly visible in the sun; built-in OLED viewfinder, LCD screen, and viewfinder angle can be adjusted, equipped with high-power dual flashes, can easily cope with various detection scenarios.
Lightweight and portable, easy to operate
Compact structure, ergonomic design; supports one-key switching of infrared and visible light images, one-key switch of laser light and fill light, one-key capture and video, one-key calibration of temperature measurement compensation parameters, etc.; Multiple angles rotatable LCD screen is convenient for users to observe from multiple angles comfortably.
Safer and more efficient detection
Long-distance, non-contact detection method, detection speed is much faster than traditional equipment, significantly improving leak detection efficiency.
| | |
| --- | --- |
| Detector Type | Focal plane array cooled QWIP |
| Detector Resolution | 384×288 |
| Spectral Range | 3.1~3.5μm,CWL 3.3μm |
| Detector Pitch | 30μm |
| Focal Length | 50mm |
| IFOV | 0.6mrad |
| FOV | 11° × 8.8° |
| NETD | < 15mK(@25°C,F#=1.0) |
| Focus | Manual |
| Image Frequency | 50HZ |
| | |
| --- | --- |
| Resolution | 5 Mega Pixel, CMOS |
| Focus | Automatic Focus |
| Fill-in Light | High power double fill light lamp |
| Laser Lamp | Level two, 1mW/635nm RED |
| | |
| --- | --- |
| Display Screen | 5.7" LCD Highlight Display Screen |
| Power Detection | Real-time battery power display, low battery prompt alarm |
| OSD | Date/Time, Language, Temperature unit |
| View Finder | 0.44" Color,Resolution 640*480 |
| Color Palettes | Ten false colors such as white hot, black hot, iron red, etc. |
| Image Enhancement | Digital image enhancement, noise reduction filter |
| Image Zoom | X1/X2/X4 |
| Image Adjustment | Automatic/manual image contrast and brightness adjustment |
Temperature Measurement Performance
| | |
| --- | --- |
| Accuracy | ±2℃ or ±2% of the reading |
| Range | -20°C~350°C |
| Emissivity Correction | 0.01-1 can be set |
| High-temperature Alarm | High-temperature abnormal alarm |
| Temperature Measurement Model | Point, line, and frame temperature measurement, ten temperature measurement points, five regions, and five lines simultaneously. Isothermal analysis, temperature difference measurement |
| Background Temperature Correction | Yes |
| Transmittance Correction | Target distance, temperature, and humidity can be set |
Connections & Communications
| | |
| --- | --- |
| Data | USB 2.0 |
| Storage | MMC Memory Card (32GB MAX) |
| Video Output | HDMI |
| GPS | Yes |
| | |
| --- | --- |
| Encapsulation | IP54 |
| Operating Temperature | -20°C~+40°C |
| Operating Humidity | 0-95% |
| Storage Temperature | -40°C~80°C |
| | |
| --- | --- |
| Power Supply | DC212V/3A |
| Charge Mode | Charger or DC charge |
| Battery Type | 44Wh SONY Li-ion battery |
| Battery Life | >2h at 25°C ambient temperature and typical use |
| | |
| --- | --- |
| Power Consumption | 3.6W |
| Size (L x W x H) | 345×195×190 mm |
| Weight | ≤3Kg(incl battery |