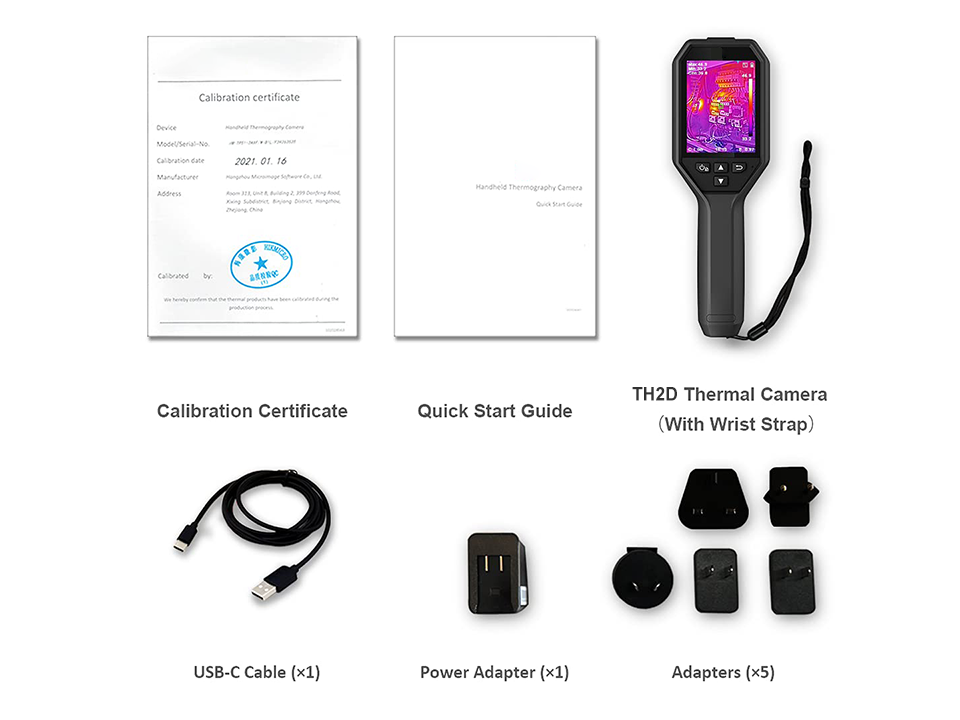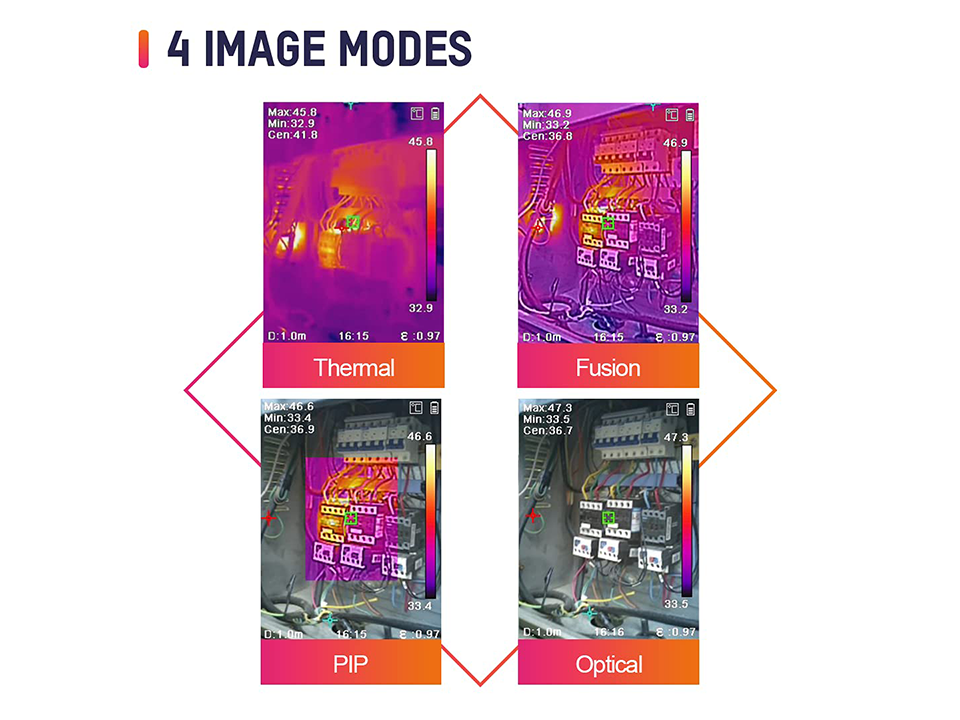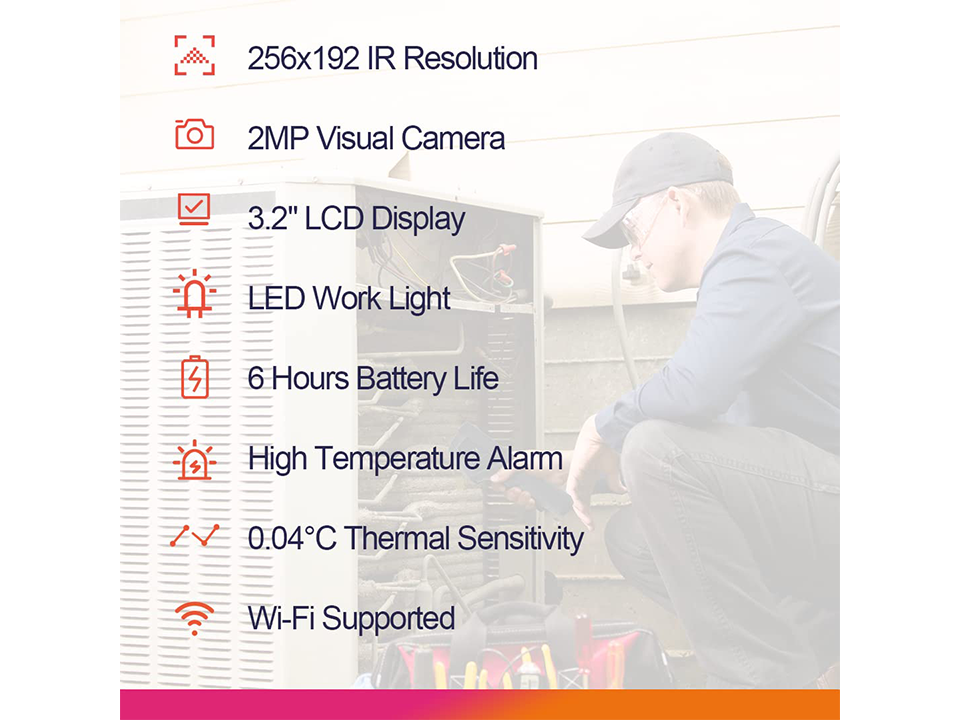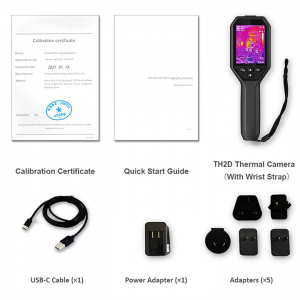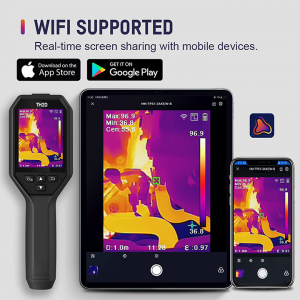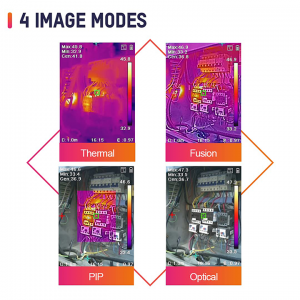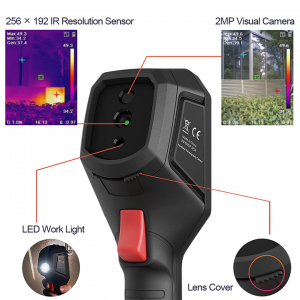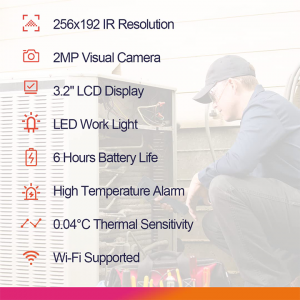 Handheld Thermal Imaging Camera
Model: SV-TH2D
SV-HT2D is designed for temperature measurement to find invisible faults.
It has a 256 × 192 resolution thermal detector and a 2 MP optical detector. The thermography ranges from -20°C to 550°C (-4°F to 1022°F), which meets most situations. It helps the staff to quickly find the fault according to accurate temperature measurements of high-temperature targets in the environment. Meanwhile, it provides assistance decisions and ensures safety.
The device is mainly applied to various industries, such as building, HVAC, and auto industries.
Thermal resolution: 256 × 192 (49,152 pixels)
NETD: < 40 mK (@ 25°C, F# = 1.0)
Temperature measurement range : -20°C to 550°C (-4°F to 1022°F)
Accuracy: Max. (± 2°C/3.6°F, ± 2%), for ambient temperature 15°C to 35°C (59°F to 95°F) and object temperature above 0°C (32°F)
Measurement presets: Center spot, Hot spot, Cold spot, User Preset Point
25 Hz image frequency
2" LCD screen display
Up to 6 hours continuous running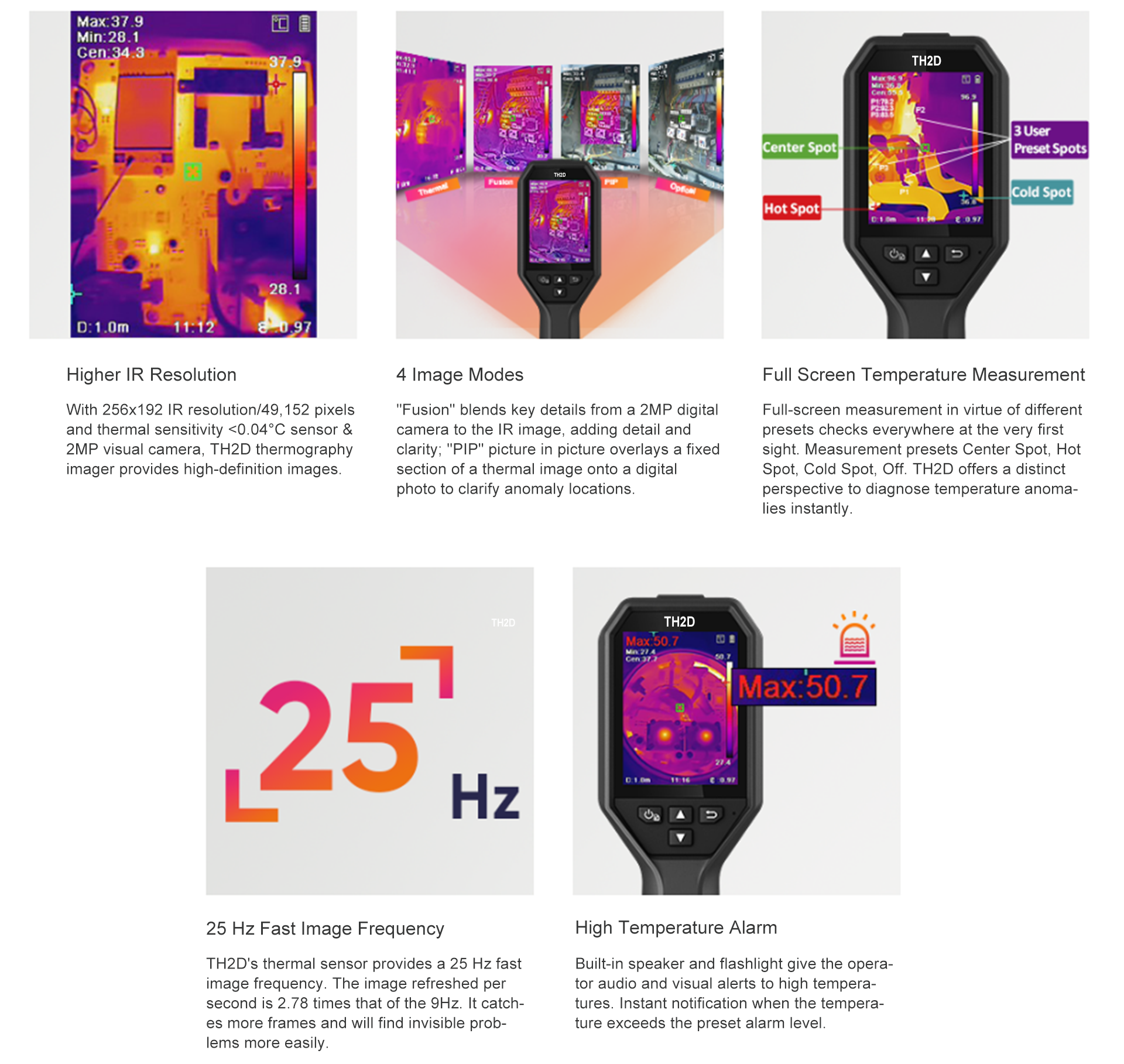 | | |
| --- | --- |
| IR Resolution | 256 × 192 (49,152 pixels) |
| Pixel Pitch | 12 μm |
| Spectral Range | 8 to 14 μm |
| NETD | < 40 mK (@ 25°C), F# = 1.0 |
| Focal Length | 3.6 mm |
| Focus | Fixed |
| FOV (Field of View) | 37.2° × 50.0° |
| IFOV (Spatial Resolution) | 3.3 mrad |
| Image Frequency | 25 Hz |
| F-number | F1.0 |
| Min. Focusing Distance | 0.3 m (0.98 ft) |
| Focal Length | 2 mm |
| FOV (Field of View) | 55°× 42° |
| Picture Resolution | 1600 × 1200 (2 MP) |
| | |
| --- | --- |
| Display | 240 × 320 Resolution, 3.2" LCD Screen |
| Image Modes | Thermal/Optical/Fusion/PIP |
| Color Palettes | White Hot, Black Hot, Rainbow, Ironbow |
| Fusion | Thermal Picture and Optical Picture Combined |
| PIP | Thermal Picture in Optical Picture |
| | |
| --- | --- |
| Object Temperature Range | -20°C to 550°C (-4°F to 1022°F) |
| Accuracy | Max. (± 2°C/3.6°F, ± 2%), for ambient temperature 15°C to 35°C (59°F to 95°F) and object temperature above 0°C (32°F) |
| Measurement Presets | Center Spot, Hot Spot, Cold Spot, Point Presets, Off |
| High-Temperature Alarm | Audible and Visual Warning |
| | |
| --- | --- |
| Storage Media | EMMC (16 GB) |
| Image Storage Capacity | 90,000 Images |
| Image File Format | JPEG with Measurement Data Included |
| | |
| --- | --- |
| LED Light | Yes |
| Wi-Fi | 802.11 b/g/n (2.4 GHz) |
| UVC Cast Screen | Yes |
| Level/Span | Auto/Manual |
| | |
| --- | --- |
| Power Supply | 3.7 VDC/0.5 A |
| Power Consumption | 1.8 W |
| Battery Type | Rechargeable Li-ion Battery |
| Battery Operating Time | 6 Hours Continuous Running |
| Battery Charging Time | 3 Hours |
Menu language

21 Languages
English, German, French, Russian, Korean, Spanish, Portuguese, Italian, Japanese, Hungarian, Czech, Slovak, Polish, Romanian, Danish, Turkish, Traditional Chinese, Swedish, Norwegian, Finnish, Dutch

Working Temperature Range

-10°C to 50°C (14°F to 122°F)

Protection level

IP54

Drop Test Height

2 m (6.56 ft)

Weight

Approx. 380 g (0.84 lb)

Dimension

221.7 mm × 73.5 mm × 80.5 mm (8.73" × 2.89" × 3.17")

Storage Temperature Range

-20°C to 60°C (-4°F to 140°F)

Tripod Mounting

UNC ¼"-20