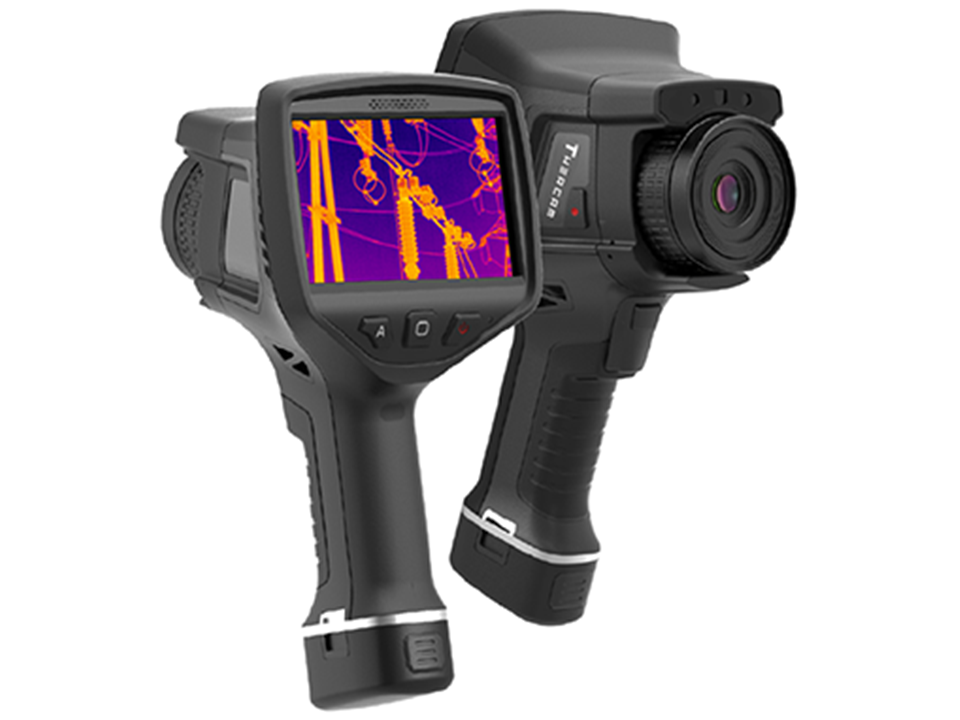 Advanced Thermal Imaging Camera
Model: SV-H3D/SV-H6D
The TherCam SV-H6D Advanced Thermal Imaging Camera offers exceptional resolution and sensitivity for condition monitoring, electrical and mechanical inspection, and building inspection.
This handheld advanced thermal imaging camera is equipped with a 640 x 480 thermal resolution detector to measure extreme temperatures while producing crisp and clear imagery accurately. Inspectors can survey high-voltage, hazardous targets safely and quickly and diagnose electrical and mechanical failures. The SV-H6D's interchangeable lenses also offer complete coverage of near and distant targets, with the laser distance meter ensuring the focus needed for accurate temperature measurement.
With the advantages of accurate temperature measurement, precise imaging, ease of use, and portability, the SV-H6D can support the rapid evaluations of industrial environments. High and low-temperature capabilities, one-click capture, and video functions are also convenient for field operators who need to record and troubleshoot. This premier thermal imaging camera can be used in a variety of applications such as:
Power Station Operations
Industrial inspections
Petrochemical Engineering
Electronic Design
Energy conservation
Temperature Measurement
Fullscreen ±0.5℃ high-quality target surface uniformity, high-temperature measurement accuracy; accurate temperature measurement in complex environments, accuracy ±2℃ or ±2% of reading; automatic tracking of the highest and lowest temperature in the entire screen, supporting various temperature measurement modes such as points, lines, frame, etc.
Excellent infrared image
640×480 infrared image, coupled with unique image processing technologies, such as super-resolution and image detail enhancement, greatly enhances the detail effect of the target object and output unparalleled high-quality and clear thermal image
Picture-in-Picture
support visible light and infrared thermal imaging modes, and picture-in-picture mode, which superimposes infrared images on the visible light screen to help users quickly locate the defect location.
Features
Support multi-zone temperature measurement mode, each zone displays the maximum/minimum temperature in real-time; infrared thermal image supports jpg (including complete temperature data) and national grid standard formats; supports voice annotation and Bluetooth playback.
Easy Operation
Support one-key switching of pseudo-color palettes, one-key shutter correction, one-key laser alignment, one-key capture, and video, etc., making the operation more straightforward and convenient
Smart and portable
Small size, exquisite appearance, ergonomic design, comfortable to use, and easy to carry.
| | |
| --- | --- |
| Detector Type | Uncooled Detector |
| Detector Resolution | 640 x 480 |
| Spectral Range | 8~14μm |
| Detector Pitch | 17μm |
| Lens | Standard 24° (optional 48°、12°、7°) |
| IFOV | 0.68mrad(24°),1.30mrad(48°),0.34mrad(12°),0.17mrad(6°) |
| FOV | 24°×18°,48°×36°,12°×9°,6°×5° |
| NETD | < 50mk(@30°C,F#=1.0) |
| Focus | Manual/Automatic/Electric |
| Image Frequency | 30HZ |
| Digital Zoom | ×1、×2、×4、×8 |
| | |
| --- | --- |
| Display Technology | IPS |
| Display Screen | 5 inch Readable Sunlight Display |
| Touchscreen | Capacitive Touch Screen |
| Image Mode | Visible light, thermal imaging, picture-in-picture, image fusion |
| Color Palettes | 10 false colors such as Iron red/grayscale/anti-iron red/anti-grayscale etc. |
| Isothermal Line | Yes |
| Temperature Difference | Each temperature measuring frame automatically temperature difference calculate |
| | |
| --- | --- |
| Storage Card | 32 G high-speed SD card (can store more than 4000 infrared pictures) |
| Video Recording | H.264 format video recording |
| Infrared Image Format | jpg (including full temperature data)/ png (including full temperature data) |
| Visible Image Format | jpg/png |
| Image Library | Yes |
| Text | Predefined list or touchscreen keyboard |
| Voice | Recording added to still images |
Temperature Measurement Performance
| | |
| --- | --- |
| Accuracy | ±2℃ or ±2% of reading |
| Range | -20°C~150°C、0°C ~410°C( can be extended to 2000℃ |
| Intelligent Range | Yes |
| Emissivity Correction | 0.01-1, custom input and material table selection |
| Temperature Correction | Atmospheric transmittance, optical correction, ambient temperature and humidity, automatic target distance correction |
| High-temperature Alarm | High-temperature abnormal alarm |
| Temperature Measurement Model | Global high and low temperature, average temperature tracking. Point, line, frame temperature measurement, 10 points, 5 regions, and 5 lines measure simultaneously. |
| Alarm Mode | Automatic sound and light alarm for the set temperature value / above / below |
Connections & Communications
| | |
| --- | --- |
| 4G | Real-time remote images streaming to mobile phones/computers via 4G |
| GPS | Automatic image tagging |
| Bluetooth | Voice annotation listen via Bluetooth |
| WiFi | Yes |
| HDMI | Real-time video streaming via Micro HDMI |
| | |
| --- | --- |
| Charging Temperature | 0℃~45℃ |
| Charge Mode | Two-places Charger or 12V Car Charger |
| Battery Type | Detachable Rechargeable Li-ion battery |
| Battery Life | >2.5h at 25°C ambient temperature and typical use |
| Power | Support Sleep Mode |
| External Power Management | USB 2.0 A to USB Type-C with Power Supply |
| | |
| --- | --- |
| Power Consumption | 6W |
| Size (L x W x H) | 260x 135 x136mm |
| Weight | 1.17Kg(incl battery |
| Housing Material | TPE coated PCABS, Magnesium Alloy |